Keeping Kids Connected Throughout COVID-19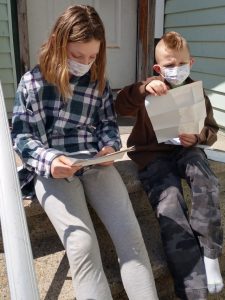 As our nation continues to respond to the public health crisis posed by COVID-19, we have suspended all face-to-face contacts between Bigs and Littles in our school-based programs, and are instructing any community-based matches who wish to communicate during the pandemic to strictly follow all CDC guidelines until state policies on social distancing are relaxed or ended.
During this time of change and uncertainty, however, our agency's commitment to the youth and families we serve remains the same: to collaborate with families, schools and volunteers and continue to support the important relationships that exist between Bigs and Littles. Amidst so much turmoil and disruption, one thing is clear: our Little Brothers and Sisters need us now as much as ever.
We also fully appreciate that this time is disruptive and challenging for everyone, including our volunteers. Thank you for continuing to keep in touch with your Littles to the best of your ability.
Our program staff will be providing ongoing match support just as we always have. We will also be working to provide information about resources to help our Littles' families and ways for Bigs to continue to have fun supporting the needs of their Little. Please continue to make contact with our program managers for match support and reach out any time if you'd like to discuss ideas, have concerns, or with updates to share. We have enjoyed receiving pen pal letters and artwork from our school-based matches, and hearing from matches in the community about all the ways you are staying connected!
Thank you for your commitment to being there for your Little during this challenging time. For youth who are isolated, fearful and feeling disconnected, your consistency and support can make a huge difference in helping them stay engaged and moving in a positive direction to reach their full potential. We are deeply grateful for all you do!
IMPORTANT MESSAGE TO OUR BIGS, LITTLES, PARENTS & GUARDIANS
Safety continues to be our number one priority and keeping our matches healthy is part of that. Fun and friendships and continuing for our school-based Bigs and Littles through our Pen Pal Program! 
Bigs and Littles are encouraged to keep up with writing notes and letters, drawing pictures and sharing photos!  As always, our staff will receive and review them before forwarding  them to the correct match! If possible, we encourage Bigs and Littles to EMAIL their letters, pictures, drawings to info@bbbsmidmaine.org.  If you need stamped, addressed envelopes, please let us know and we'll happily send them to you.
Looking for other fun ways to stay connected? CLICK HERE for some "Apart But Together" match ideas! 
Children across eastern, coastal and central Maine are invited to join us by sending letters and drawings of support to info@bbbsmidmaine.org and we will share with our Littles! Read more about this in a recent article: We are #BiggerTogether!
We know mentoring friendships are important to continue, and hope all our matches will join in the Pen Pal Program to stay in touch! If you have any questions or need materials, please reach out to Ted Fournier (207-592-4606, ted@bbbsmidmaine.org) or Mae Slevinsky (207-592-4616, mae@bbbsmidmaine.org). 
THANK YOU to everyone for your understanding and patience, and for being amazing DEFENDERS of POTENTIAL!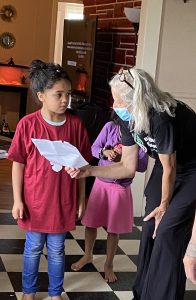 Bates College Field Trip Re-Imagined
When our annual field trip bringing Lewiston Littles to visit their Bates College Bigs was canceled due to COVID-19 and school closings, our BBBS staff "re-invented" the outing, bringing cards, letters, activities and even pizza delivered to their homes, in an effort to Keep Kids Connected. 
Read the Story About How Our Staff Visited Littles in Lewiston!